Senator Skull
Name:
Senator Skull
Additional Info:
Evil Leader of Sinistras
Afflation:
Leader of Sinistras , Former Head Coach for Sinistras
Record:
5W-4L
Stats:

| | |
| --- | --- |
| Power: | |
| Agility: | |
| Stamina: | |
| Scary: | |

Seasons appeared in:
Season 1-5
Portrayal:
Scottie Ray
Senator Skull is the founder and leader of the Sinistras, Runner up in Season 2, and the former Sinistras' Head Coach.
Background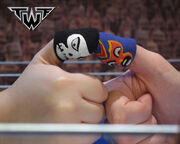 Born and raised in Boca Raton, Florida, Then called Vincent Arthur Skullberg was a queer and mysterious child. He was teased a lot, and was the unfortunate target of bullies. There was no one to help him out, and with no help, Senator Skull naturally fostered hatred toward those who bullied him. He eventually exploded, and began to train hard and taught himself to be evil. He eventually became stronger than the bullies, and exacted his revenge on each and everyone of them. He was not satisfied after this terrifying act of brutality, and set off to take over the world. His plan to take over the world somehow tied in with Thumb Wrestling. Joining the TWF at an entry level job as Pageboy Skull, he led a revolt splitting the TWF into two factions. Founding the evil Sinistras, Senator Skull waited until he or his fellow villains won the championship in order to take over the world once an for all.
Personality + Battling Style
An evil villain such as Senator Skull's personality is pretty easy to understand. He's evil, pure evil. He calls himself "evil incarnate". He won't hesitate to do anything to accomplish a task, whether muscling his way around to get to a desired place, or sending thugs to do something or another, you could bet Senator Skull is behind it. Although he is an evil person, he is somewhat 'coward' and fear a little critter like a bunny rabbit
Battling Style Senator Skull was one of the strongest wrestlers in the TWF. Despite his muscle, Skull really flourished with his underhanded schemes. While he was beating up his opponent in the ring, something evil whent on outside of the ring to bolster Skull's chances of winning his match. He never hesitated to cheat in his matches.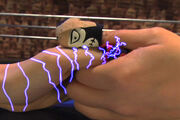 Signature Move: The Skull's Revenge Shocker
Senator Skull's signature move is an unbeatable 3 hit combo move. He headbutts his opponent, shocks them with electricity, then slammed them to the ground, defeating them.
Signature Move #2: The Super Skull Senator Skull's super move: it's so destructive and violent, that is too sinister to be shown in a match. The results end in a completely demolished arena.

Career
Season 1
Senator Skull devious career began by taking out the Dexteras one by one, but was betrayed by one of his own teammates in the Quarterfinals.
See:
Season 2
Senatoe Skull returned to crush the hearts of fans in his victory over Season 1 champion Hometown Huck, but his plans were foiled in the most extreme championship to date.
See:
Season 3
In his appearance in Season 3, Senator Skull quit the Sinistras after his defeat against Face-Off Phil.
See: Face-Off Phil vs Senator Skull
Season 4
Senator Skull returned to take back his leadership of the Sinistras.
Season 5
Senator Skull came back in Season 5, facing Dextera chef Pierre Pamplemousse. In the Playoffs, he got his revenge on Mr. Extremo for beating him in the Season 2 Championship, but was then kicked out of the tournament by Cleat Cunningham
See:
Trivia
Ever since Season 1, Senator Skull has only battled major Dexteras, and no minors. This is probably due to his leadership of the Sinistras.
He has the lowest overall stamina of the Sinistra majors.