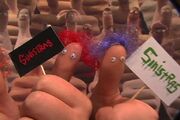 The Sinistras are the antagonists of TWF. The name Sinistras is short for the name The Evil Sinistras six majors are the following from the leader to the lowest in command. For Season 3, for Season 2 and for Season 1 by the doom of bomb he the bad Senator Skull, Bucks Gazillion, The Big Time, Itsy Bitsy, Evil Ira, N Fuego, Steve, The Visitor. See: Dexteras
Major Wrestlers
Edit
Senator Skull
Edit
Senator Skull is the leader of the Evil Sinistras and Season 2's runner-up. He got fired in Season 3, but returned in Season 5.
See: Senator Skull
Bucks Gazillion
Edit
Bucks Gazillion debuted in Season 3 and became that season's champion, and the leader of the Sinistras in Season 4. He is so far the only Sinistra champion, and quit before Season 5.
See: Bucks Gazillion
The Big Time
Edit
The Big Time is 2nd in command for the Sinistras. He quits in season 4 and later helped Senator Skull get his leadership back. He is the runner-up for Seasons 1 and 5. He has a cousin who fights for the Dexteras named Big Star because he would embarrass him. No Dextera can beat the Big Time!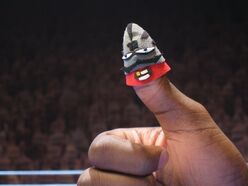 See: The Big Time
Itsy Bitsy
Edit
Itsy Bitsy is the best female competitor on the Sinistras and third in command. She was the runner up in the Royal Thumble. She quits in season 4 and comes back in season 5.
|
See: Itsy Bitsy
N Fuego is the 4th in command for the Sinistras, so far the second Sinistra champion, and the least evil of the Sinistra majors.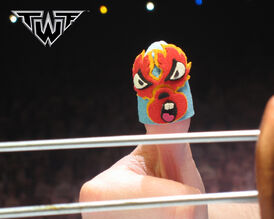 See: N Fuego
Evil Ira is 5th in command he was once a Mighty Dextera, but after defeating N Fuego he became a Sinistra.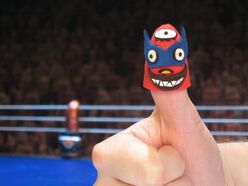 See: Evil Ira
The Visitor
Edit
The Visitor is 6th in command. He was once a minor wrestler. The Visitor is runner up of Season 4 which to the Sinistras he was worthy of being sixth. See: The Visitor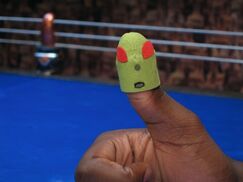 Minor Sinistras
Edit