The Visitor
Name:
The Visitor
Additional Info:
Alien Wierdo, Ruler of Worlds
Affiliation:
Evil Sinistras
Record:
3W-4L
Seasons:
Season 1-5
Portrayed By:
Sean Schemmel.

The Visitor is an alien Sinistra from another planet and Runner-Up of Season 4.
Background Info
The Visitor was from a very peaceful planet and a peaceful race, until he was born, he then decided to take over his planet by blasting his alien brethren with his laser, with no other choice, they crowned The Visitor ruler of the planet, after sometime around, The Visitor became bored of ruling his weak planet and set-off to find new planets to conker, then he found his way to Earth, The TWF, and The Evil Sinistras. Whenever this dastardly thumb enters in the ring, EARTH HANGS IN THE BALANCE!!!!
Personality + Battling Style
 

| | |
| --- | --- |
| Power: | |
| Agility: | |
| Stamina: | |
| Alien Weaponary: | |
The Visitor is very cocky(making that his downfall) when he enters the ring, and underestimates his opponents and uses his knowledge of technology to his advantage to bring home a win for The Sinistras.
Signature Move
The Visitor used this in all his matches (except against Weredog, but his alien weapon shoots laser) This doesn't seem like a signature move, but this is the only move he uses several times.
Career
Season 1
The Visitor began in Season 1 to battle it out with Dextera leader and earth-loving Vini Vidi Victory!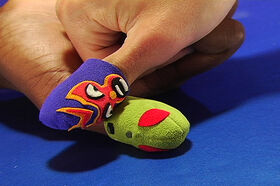 See: Vini Vidi Victory! vs The Visitor
Season 2
The Visitor came back to team up with Itsy Bitsy to battle Vini Vidi Victory and Face-Off Phil in the Royal Thumble Championships. He lost to James Montgomery Flag.

See: Royal Thumble
Season 3
The Visitor returned to face the Dexteras laid-back Weredog, but was scared out of his mind when he was in his dog form.
Season 4
Entering Thumber Summer, The Visitor blasted his away into the championships by annihilating former champ Hometown Huck and Dextera demolition expert Danny Kaboom. His season ended with a pin from Mr. Extremo.

See:
Season 5
The Visitor came back to battle the prehistoric wrestler Gogachog in a battle of technology vs primitive.
Trivia
The Visitor is voiced by Sean Schemmel, who also voices as Colonel Cossack, Mr. Extremo, Evil Ira, Dorsal Flynn, Face-Off Phil, James Montgomery Flag, Knockout Ninja, Scoutmaster Scott, and as Mugsy Thumbscrew.
The Visitor has some of the biggest eyes in the TWF
He is one of the only minors to make it to the championship (see: Mr. Extremo vs The Visitor).
He took over 5 and 2/8 planets